INDEX  
BOOK
New Edition


Pyorrhea ~Treatment aiming without tooth extraction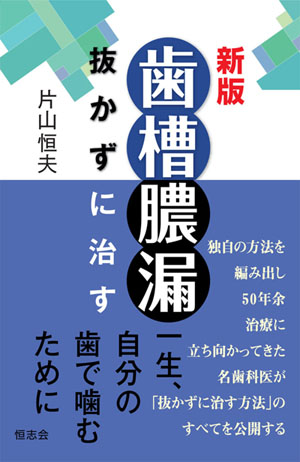 The argument concerning " Whether you extract or not" or "When you extract" is barren and unnecessary. What it is important for a dentist is " How to save teeth without teeth extraction."
How can you chew by your own teeth throughout your life: Dr. Tsuneo Kayama is a distinctive dentist who has thought his original method in maintaining own teenth, and actually engaged in treatment over 50 years.
Thought of Dentistry Clinician II
Words of recommendation by Katayama
The definite aim of dentist is to gain the fullness, the thanks and the trust of the patient.
The medical advancement of dentistry is constantly advancing so quickly.
Though we are very busy, we have to keep up with the developing technology and science as a responsibility for being a professional employment.
Since all the people of any occupation are busy likewise, they do not have time to understand progress and the change of other occupations.
When such a people meet the chief physician as a patient, it is natural that there is a big difference in the knowledge.
The mind trust each other sometimes fades away if there is some miss understanding.
So if the new treatment is reached without understanding, there will be eyes of doubt, and the effect of the treatment does not appear.
If an etiology still still remains during treatment, naturally the result is not good.
The distrustis born and remains.
Even if a dentist tries to give a good feeling to get trust and displays fine facilities, and explains it skillfully, the patient will become careful.
Besides, it will be still worse if the result is bad.
The good treatment lasting for a long time leads to the trust of a patient. Besides, the result of good treatment decides everything.
The key of letting the tooth last for a long time derives from removing the etiology.
This book is a record for 50 years' clinical practice finding problems, thinking how to solve them.
Root Canal Cover-Up  
The actual situation of "Dental infection" that has been hidden


From Dentistry To Stomatology
Stomatology must be the battle front of medicine
outline
Dr. Weston A. Price was true oral medical pioneer whom Dr. Tsuneo Katayama respected heartily. But Dr. Price let his one son die suddenly of heart disease.
Thereafter Dr. Price accumulated the study for the quarter of century, proving cavity becoming "a trigger" of the mortal disease of his son, and leading to serious disease of the whole body caused an intraoral lesion.
Finally he wrote "Odontogenic Infection" to prove this fact (1923).
However, the truth has been hidden for many years probably because the contents sensational and shocking.
Dr. George E. Meinig who knew this fact accidentally with a sense of duty and reports "the truth" here in the book.
Written by George E. Meinig Edited by Tsuneo Katayama Translated by Koushikai
Whole Body Dentistry 


summary
In order to keep healthy body, mouth and teeth must be healthy too.
If mouth and teeth are healthy, a body can be healthy.
So, it is necessary to treat mouth and body properly.
Dentistry from head to foot must be important. Oral cavity is significant place of the whole body.
The neighboring organs are connected to teeth.
Therefore the oral cavity gives a great influence to the whole body.
We must not forget The symptom is signal of nature.
Even a just small symptom tells us some warning.
Written by Mark A. Breiner DDS   Translated by Katsumi Yamada
Nutrition and physical degeneration
Original
「NUTRITION AND PHYSICAL DEGENERATION」
You can get this at the website PPNF


summary
LIFE IN ALL ITS FULLNESS IS THIS MOTHER NATURE OBEYED
Why the structure of the oral cavity and chin of the native receives a terrible blow and will deteriorate as soon as they contact modern civilization and having begun to do their eating habits "modernize" .
Weston A. Price carried on a field work research for over 10 years in all parts of the world in the 1930s, and he clarified the fact and sounded an alarm for the eating habits of modern people and wrote a monumental "famous book of classics".
Now, the book is offered to the Japanese in the paper-back edition.