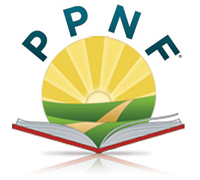 PPNF
THE PRICE-POTTENGER NUTRITION FOUNDATION
http://www.ppnf.org
The purpose of the Price-Pottenger NUTRITION FOUNDATION is to provide and disseminate basic nutritional information necessary to stem and then hopefully reverse the physical and moral degeneration afflicting most civilized countries today.
Through films, teaching aids, exhibits, scientific reprints and quarterly publications on continuing research, the Foundation is making a unique contribution to the growing understanding of the key elements of optimum health.
The demonstration center now being planned will further this work with a living laboratory showing the application of the concepts, striving to achieve complete harmony with nature's laws and the higher development of mankind.
---
 J O A A
JAPAN ORGANIC AGRICULTURE ASSOSIATION
http://www.joaa.net
Activity
Promote food self-support
Research, the spread to affect production engineering, material and machine parts of organic farming
Research about food security and the environmental conservation
Research to affect healthy how to eat and organic life
International collaboration for promotion of the organic farming
Publication such as a book, the document affecting this corporation activity
・・・
---

Association of nonprofit foundation Makkoho



http://www.makkoho.or.jp
Makkoho is the exercises for health that anyone can do easily anywhere anytime in four movement for three minutes.


Makkoho has been invented for good health by Mr. Wataru Nagai in 1933.


It activates natural good talent namely the power that is going to become healthy that a human body possesses originally, and it is a method that restores firm waist and joint flexibility, and muscle, blood vessel, the nerve which withered take the original softness and returns.