INDEX  
Average Daily Risk Range (ADRR)
The indicator ADRR was introduced in the scientific paper "Evaluation of a New Measure of Blood Glucose Variability in Diabetes" by Dr. Boris Kovatchev, Erik Otto, Daniel Cox, Dr. Linda Gonder-Frederick and William Clarke.
The ADRR measures the risk induced by high variability of blood glucose readings. It tries to weigh low and high BG values in an equal fashion. Behind this are two fundamental thoughts about variability and its risks:
1) Low blood glucose values are an acute risk. Furthermore patients with many low values will try to prevent this from happening. They do this by seeking higher overall regions. Thus they will seek higher target values or reduce their insulin doses. This tendency will likely degrade their HbA1c performance.
2) High variability of blood glucose readings is risky in the long term. A number of studies found that, in addition to causing cardiovascular complications, cyclic hyperglycemia is an independent contributor to chronic cardiovascular disease and increased mortality. Therefore the knowledge about the glycemic variation is important to develop strategies to narrow down the variability.

i  : 1,2,…M(th day)
M  : 14 〜 30
LR1 : Biggest hypoglycemia risk level of the first day
HR1 : Biggest hyperglycosemia risk level of the first day
The ADRR tries to give a quality indication for both types of risks with these ranges:
| Low risk | Moderate risk | High risk |
| --- | --- | --- |
| 0 ≦ ADRR < 20 | 20 ≦ ADRR < 40 | 40 ≦ ADRR |


Conclusion: the ADRR is an interesting indicator for risks that are not necessarily reflected by the HbA1c. By calculating the ADRR monthly patients get immediate feedback how their strategies to prevent low values and high variability have worked out for them. These positive side effects of the ADRR convinced our team to implement the ADRR in future versions of the Glucosurfer.
This method begins to be adopted a little in Japan.
Actually, the ADRR is used together with HbA1c and make use for the correction of the lifestyle of the patient, a judgment of the propriety of drug dosage methods such as insulin, the QOL improvement of the patient.
World Congress 2015
---
World Congress 2015
Dental care and oral health for healthy longevity in an ageing society
Tokyo, Japan, 13-15 March 2015


Tokyo Declaration on Dental Care and Oral Health for Healthy Longevity
ln many countries around the world societies are ageing rapidly as medical advances and an improved living environment extend the average life span. At the same time, this has generated a marked discrepancy between actual life expectancy and the expectancy of healthy life, resulting in a complex situation in which the number of people needing nursing care has increased. lnevitably societies face as a consequence the task of preventing the decline in the quality of life of people who need nursing care.
The challenge is to develop the role of dental care and oral health in creating societies with healthy longevity. Dental care should respond to the problem of increased noncommunicable diseases as living environments change and should expand its support for people who need nursing care and preventing premature death. Dental associations and other health professionals around the world are encouraged to facilitate and enhance coordination of activities to increase global awareness of and contribute to the implementation of WHO's Global Action Plan for the Prevention and Control of Noncommunicable diseases 2013-2030.
Life-long oral health is a fundamental human right, underpinned by an 'oral-health-in-all-policies' approach.
The World Congress 2015 adopted the Tokyo Declaration on Dental Care and Oral Health for Healthy Longevity, calling for:
a concerted effort to accumulate scientific evidence of the contribution of dental care and oral health to longer healthy-life expectancy and to formulate health policies based on such evidence;
 
further investigation into the status of national dental health care policies and regional health activities supported by such evidence, with the sharing of results and related information among countries across the world;
 
recognition that maintenance of oral and dental health throughout life is a fundamental factor for improving quality of life,helping to protect against noncommunicable diseases and contributing towards preventing the aggravation of such diseases ? it can also contribute to longer healthy life expectancy;
 
community dental care providers and institutions to play a fundamental role in ensuring that, in ageing societies, appropriate dental care is provided at all stages of life and that concerted efforts to put oral health into practice are made at the national level;
 
an understanding that health policy should focus on how to recognize risks common to both oral diseases and noncommunicable diseases in order to devise a common risk factor approach, prevent oral diseases and tooth loss, and maintain and revitalize

oral function

by a life-course approach;
 
an appreciation that, in order to contribute to preventing both noncommunicable diseases and a decline in

oral function

in old age, dental and other health professionals must create an environment that enables and encourages multi-professional collaborative practice.
Tokyo
March 15th, 2015
Reformation of Dental Education in Japan
---
ーFrom Dentistry To Stomatologyー
note
Stomatology : sometimes termed Oral medicine, Dental medicine, or Oral and maxillofacial medicine


In "Hanadokei"(Flower clock) which Shusaku Endo, of an author published serially in the Sankei Shimbun from 1987 through 95, there is one sentence saying "only dentistry is handled with distinction".
Otolaryngology and the ophthalmology belong to the medical department. Nevertheless he poses a question why only dentistry is treated as distinction.
This simple question exists in the general person and medical personnel widely.
Furthermore, originally, as for Endo, the dentistry should be one as a medical whole, and what place as "oral medicine" as the best specialized field of the medical whole is finally essential; say.
He insists that it is social needs, and it will contribute to the healthy increase of the nation still more again.
Chief director Dr. Kenzo Tanaka of the educational foundation Fukuoka dentistry school continues appealing for the reconsideration of medicine, the dental education system.
The medicine and the dentistry did dual development by various society and the passage of history in Japan.
In post new society including the close association between aged society, oral cavity and whole body, the dentistry has to be brought back to the origin once again.
He established a study system made to a medical base as oral medicine, and it is necessary to arrange relations with the medicine unitarily, furthermore he started reorganization of Fukuoka Dental College, and he does not become and approaches it for a society, administration positively.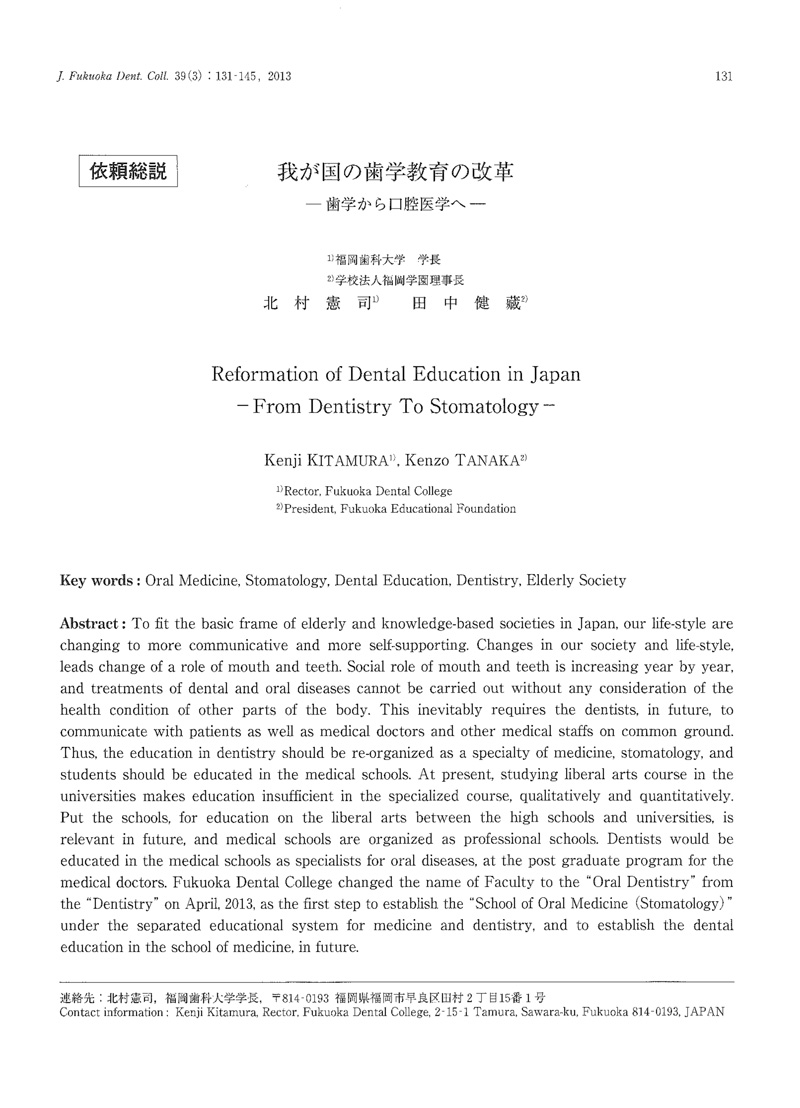 Reference J.Fukuoka Dent. Coll. 39(3) : 131-145, 2013